Joint Statement of the Northern California Chinese Baptist Association, Southern California Chinese Baptist Association and the Chinese Baptist Fellowship of the US and Canada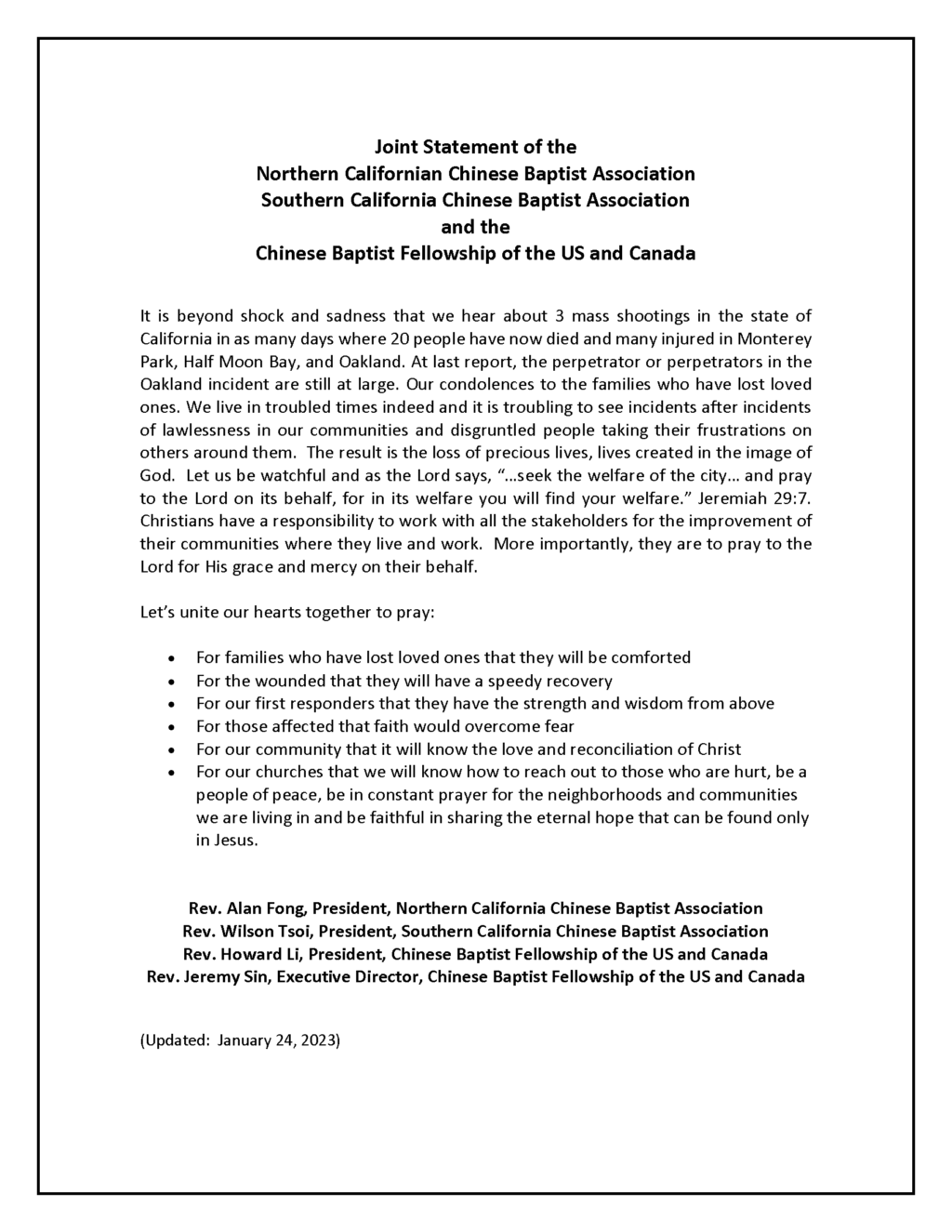 Joint Statement of the Northern California
Northern California Chinese Baptist Association
Southern California Chinese Baptist Association
and the
Chinese Baptist Fellowship of the US and Canada
It is beyond shock and sadness that we hear about 3 mass shootings in the state of California in as many days where 20 people have now died and many injured in Monterey Park, Half Moon Bay, and Oakland. At last report, the perpetrator or perpetrators in the Oakland incident are still at large. Our condolences to the families who have lost loved ones. We live in troubled times indeed and it is troubling to see incidents after incidents of lawlessness in our communities and disgruntled people taking their frustrations on others around them. The result is the loss of precious lives, lives created in the image of God. Let us be watchful and as the Lord says, "…seek the welfare of the city… and pray to the Lord on its behalf, for in its welfare you will find your welfare." Jeremiah 29:7. Christians have a responsibility to work with all the stakeholders for the improvement of their communities where they live and work. More importantly, they are to pray to the Lord for His grace and mercy on their behalf.
Let's unite our hearts together to pray:
For families who have lost loved ones that they will be comforted
For the wounded that they will have a speedy recovery
For our first responders that they have the strength and wisdom from above
For those affected that faith would overcome fear
For our community that it will know the love and reconciliation of Christ
For our churches that we will know how to reach out to those who are hurt, be a people of peace, be in constant prayer for the neighborhoods and communities we are living in and be faithful in sharing the eternal hope that can be found only in Jesus.
Rev. Alan Fong, President, Northern California Chinese Baptist Association
Rev. Wilson Tsoi, President, Southern California Chinese Baptist Association
Rev. Howard Li, President, Chinese Baptist Fellowship of the US and Canada
Rev. Jeremy Sin, Executive Director, Chinese Baptist Fellowship of the US and Canada
(Updated January 24, 2023)
北加州華人浸信會區聯會
南加州華人浸信會區聯會
美加華人浸信會聯會
聯合聲明
在短短幾天內在加州蒙特利公園,半月灣,及奧克蘭發生了 3 起大規模槍擊事件,導致20人死亡,多人受傷,這令我們感到震驚和哀傷。 而據最新報導,奧克蘭事件的肇事者仍逍遙法外。我們向失去親人的家庭表示哀悼。我們活在不安的日子中裏:社區中不斷發生不法事件,心懷不滿的人將他們的挫敗遷怒給周圍的人,結果就是是寶貴生命的喪生,而這些生命都是按上帝的形象所創造的。 讓我們警醒好像主所說,"…你們要為那城求平安,為那城禱告耶和華,因為那城得平安,你們也隨著得平安。" 耶利米書 29:7。 基督徒有責任與那一同謀求改善我們所生活和工作的社區的人合作。 更重要的是,我們要為他們能夠得著主的恩典和憐憫來向神祈求。
讓我們同心祈求:
失去親人的家庭能得到安慰;
傷者早日得康復;
前綫人員能有從上而來的力量和智慧;
在受影響的每一個人的心裏,信心能夠戰勝恐懼;
我們的社區能夠認識基督的愛與和睦;
我們的教會能夠知道如何服侍受傷的人,成為和平之子,不斷地為我們所居住的社區和鄰舍祈禱,並忠心地分享那只能在耶穌裡才能得著的永恆希望。
北加州華人浸信會區聯會會長方國華牧師
南加州華人浸信會區聯會會長蔡偉成牧師
美加華人浸信會聯會會長李汝恆牧師
美加華人浸信會聯會總幹事冼志儉牧師
(2023年 1 月24日更新)