Turkey & Syria Relief Fund (土耳其 & 叙利亚赈災捐獻) – 英文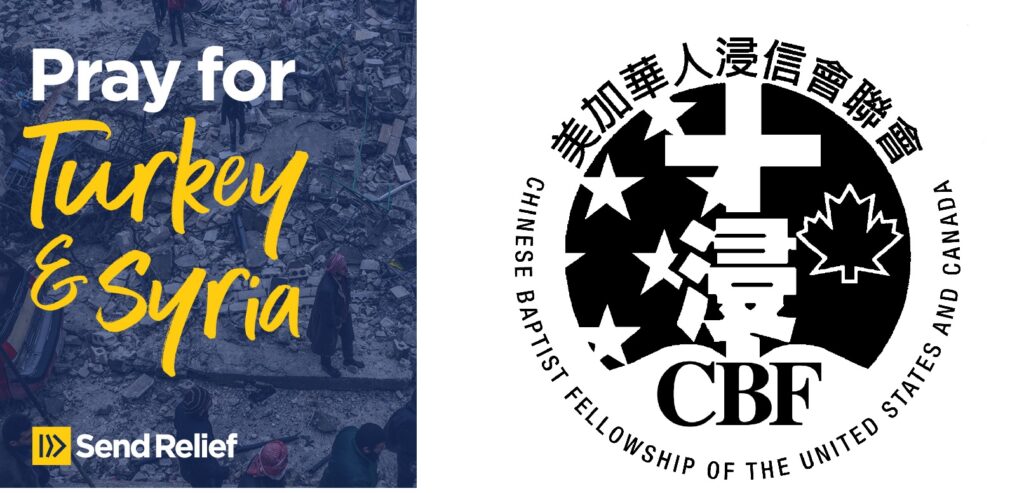 Dear Pastors and Leaders of the Chinese Baptist Family:
We are all shocked and saddened by the magnitude of earthquake that struck Turkey and Syria on Monday, February 6, with the enormous number of lives that were lost and injured, and the wide scale of damage it has caused. Many have asked how we might help.
"Turkey's disaster agency has appealed for help from the international community as it conducts search and rescue operations, and we thank the Lord that He is allowing Send Relief's international relief team to respond as initial needs are assessed," said Paul Chitwood, International Mission Board (IMB) president.
Send Relief is the Southern Baptist arm for compassion ministry at home and abroad. In Turkey, it is working with local partners and IMB missionaries to respond to critical needs. Within hours of the disaster, local partners began providing blankets, water bottles, food and other emergency supplies in impacted neighborhoods.
Please give generously to the relief work that is most needed at this critical time. Your generosity might well be the way God would use to provide an opportunity for the IMB and their local partners to reach out to people in the area with compassion and the Gospel – people who have already suffered decade-long conflict, and experience refugee and humanitarian crisis.
Please continue to pray for the millions of people displaced from their homes and sleeping in the streets. Pray for the people who have no place to go and weather the cold in search of shelter. Pray that the Lord would be their stronghold in times of trouble (Psalm 9:9) and pray for the local churches and believers to respond as the hands and feet of Christ and pray for Turks who are feeling lost and hopeless—that our Lord would meet them where they are at and reveal the unending love of Christ.
CBF would like to facilitate this act of compassion by Chinese Baptist churches and individuals collectively. You may send your contribution to us at:
CBF
P.O. Box 1393
Monterey Park, CA. 91754
with your check payable to CBF designated for "Turkey Relief" and we will send them on to Send Relief.
Your Co-worker in the Lord,
Pastor Jeremy Sin, Executive Director
Chinese Baptist Fellowship of the US and Canada