Joint Statement of the Southern California Chinese Baptist Association and the Chinese Baptist Fellowship of the US and Canada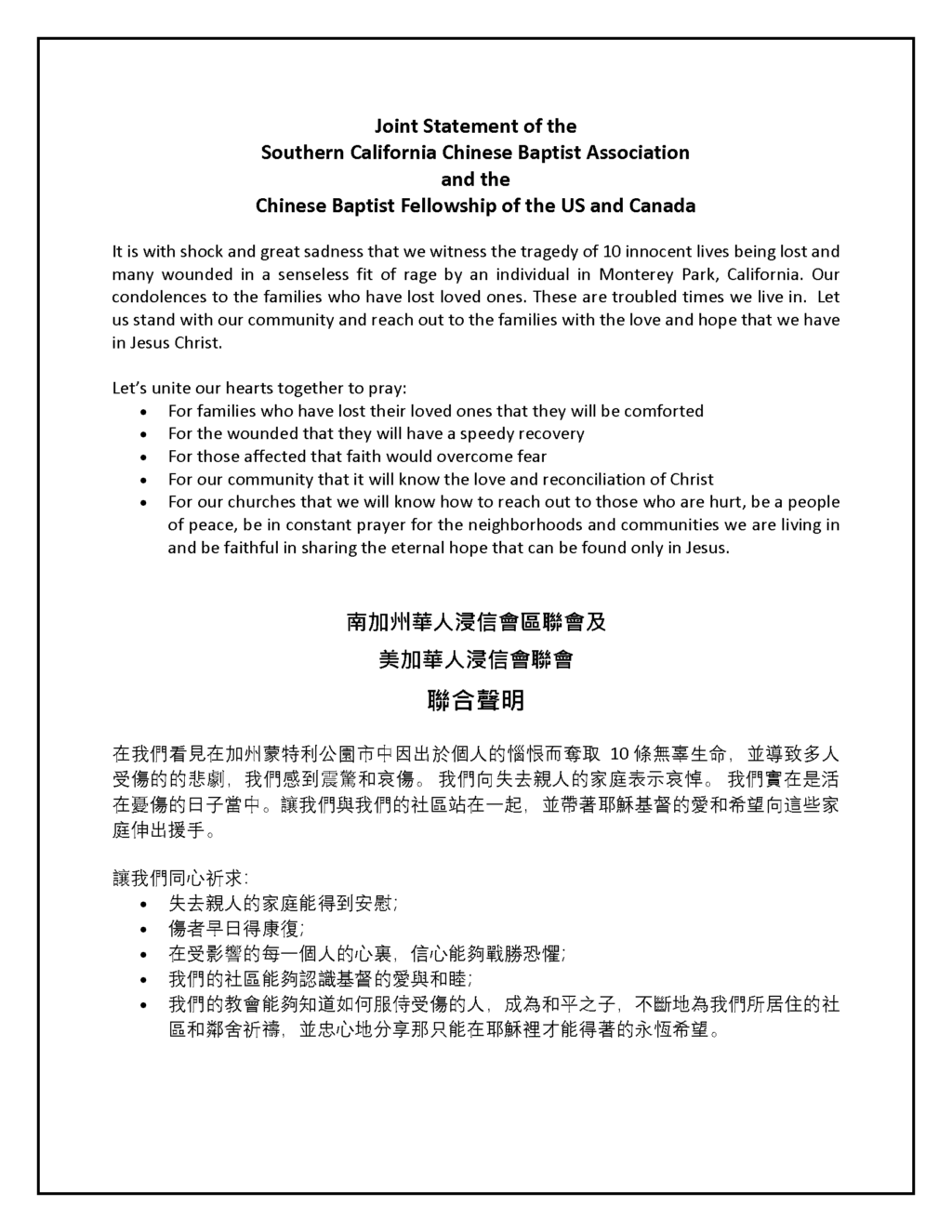 Joint Statement of the
Southern California Chinese Baptist Association
and the
Chinese Baptist Fellowship of the US and Canada
It is with shock and great sadness that we witness the tragedy of 10 innocent lives being lost and many wounded in a senseless fit of rage by an individual in Monterey Park, California. Our condolences to the families who have lost loved ones. These are troubled times we live in. Let us stand with our community and reach out to the families with the love and hope that we have in Jesus Christ.
Let's unite our hearts together to pray:
For families who have lost their loved ones that they will be comforted
For the wounded that they will have a speedy recovery
For those affected that faith would overcome fear
For our community that it will know the love and reconciliation of Christ
For our churches that we will know how to reach out to those who are hurt, be a people of peace, be in constant prayer for the neighborhoods and communities we are living in and be faithful in sharing the eternal hope that can be found only in Jesus.
南加州華人浸信會區聯會及
美加華人浸信會聯會
聯合聲明
在我們看見在加州蒙特利公園市中因出於個人的惱恨而奪取10 條無辜生命,並導致多人受傷的的悲劇,我們感到震驚和哀傷。 我們向失去親人的家庭表示哀悼。 我們實在是活在憂傷的日子當中。讓我們與我們的社區站在一起,並帶著耶穌基督的愛和希望向這些家庭伸出援手。
讓我們同心祈求:
失去親人的家庭能得到安慰;
傷者早日得康復;
在受影響的每一個人的心裏,信心能夠戰勝恐懼;
我們的社區能夠認識基督的愛與和睦;
我們的教會能夠知道如何服侍受傷的人,成為和平之子,不斷地為我們所居住的社區和鄰舍祈禱,並忠心地分享那只能在耶穌裡才能得著的永恆希望。